Listen to this Gambling History blog post here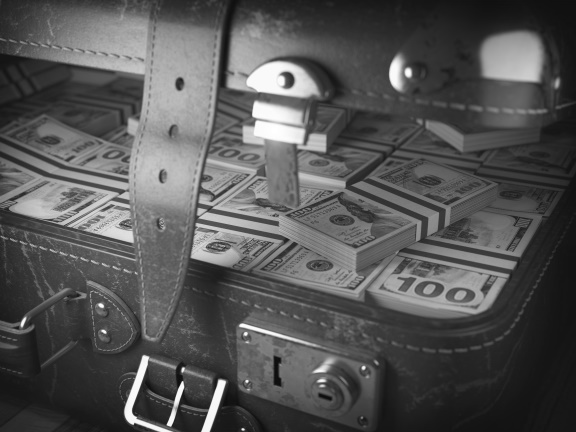 1949-1950
During the Prohibition years in California, 1919 to 1934, San Mateo County was a hotbed for illegal vices — gambling, prostitution and drinking. Even a Mobster, Hillsborough-based Sam Termini, said the county was the state's most corrupt one in 1930. This was under the watch of James J. McGrath, the sheriff for 24 years starting in 1926.
"There were numerous wide-open gambling joints operating in county territory under his jurisdiction; slot machines were operating in these establishments as well as in other public places; and bookmaking enterprises flourished throughout the county," reported California's Final Report of The Special Crime Study Commission on Organized Crime (1953).
Nothing changed after Prohibition ended except bootleggers moved into gambling.
"After years of violating liquor laws, the general attitude toward crime had softened. … Bookies prospered through illegal off-track betting and gambling dens," wrote Carmen J. Blair in "The Most Corrupt County."
Big, Big Business
Fast forward to 1949, and McGrath still was in office.* In his county, in the unincorporated community of Colma,** "Red" MacDonald (or McDonald, the spelling and true first name couldn't be verified) launched a bookmaking enterprise, his area of expertise. The operation primarily was telephone based and a layoff spot for other U.S. bookies. It also served, though, as a West Coast clearinghouse for betting monies coming from and going to other areas of the country.
The business reportedly handled about $100,000 to $200,000 a day (about $1.2 to $2.3 million today).
The California organized crime commission dubbed it the Olmo Group because MacDonald ran it on George Olmo's ranch and horse stables property, on Washington Street in Broadmoor Village.
"[The book] had operated virtually unmolested during nearly two years during this entire time with the connivance of certain law enforcement officials," according to the Final Report, its findings based on the testimony of subpoenaed witnesses at hearings.
In Tight With Lawmen
MacDonald paid about $1,000 ($12,000 today) weekly in the form of bribes, most of them "related in one way or another to Sheriff James J. McGrath," the Final Report noted.
McGrath ordered the occasional raid on the Olmo land, but no arrests were made. At most, officers removed telephones.  
Various relationships between lawmen and various Olmo associates were blatant conflicts of interest. For instance, all of the horse riding members of the San Mateo Sheriff's Office kept their horses at the Olmo stables.
Also, the deputy sheriff, Milton Minehan, who went on all raids, was related by marriage to John O'Neil, a feed and grain dealer who partly financed the Olmo bookmaking endeavor and personally handled bets. O'Neil and McGrath were good friends.
Further, when the Olmo group's bagman, collector and enforcer, Richard "Big Dick" Charles Trabert, transported large sums of money from or to the ranch, certain San Francisco Police Department officers escorted him.
The Other Principals
In addition to MacDonald, O'Neil and Trabert, the following men helped bankroll the Olmo bookmaking business:
Emilio "Gombo" Georgetti: an alleged member of the San Francisco-based Lanza Crime Family and the boss of all San Mateo County gambling activities for many years, including slot machine distribution. He ran several gambling establishments there, too, including the Willow Tree in Colma. Georgetti and Sheriff McGrath were close friends.
Ralph Cody: a longtime bookmaker involved in football and basketball pools.
Abe Fox: a bookmaker.
Cody and Fox had been arrested in 1946 in a raid on a different bookmaking business in San Francisco.
Reportedly, Arthur "Artie" H. Samish had financed Cody and Fox in the Olmo operation. Samish was a California lobbyist, representing the interests of race track owners, liquor and brewing producers, movie studios, attorneys and insurers.
John "Red" Robert Gregory: a race horse owner and trainer and a former associate of Southern California's Guarantee Finance Company bookmaking syndicate.
Frank "Porky" X. Flynn: a lobbying associate of Samish
Circumstances Change
The Olmo group closed their enterprise in Colma in June 1950 and planned to move it to San Francisco as it is in a different county. Two major factors precipitated this: the odds were long that McGrath would get re-elected for a fifth term in the upcoming election, and the book's leader MacDonald passed away earlier in the year. 
———————————–
* McGrath's 24-year tenure as San Mateo County sheriff was the longest ever in the history of the office.
** Colma, known today as the City of Souls, always has been home to more dead bodies than living people. Due to cemetery overcrowding in San Francisco in the early 20th century, 150,000-plus corpses were transferred to and buried in Colma, which, since, was and still today is the burial ground for The City by The Bay.
Photo of money-filled suitcase from pond5.com: by maxxyustas