Listen to this Gambling History blog post here
1940-1953
In 1946, Pat Mooney, chief field deputy of the Nevada Internal Revenue (IR) Bureau office, made gambler-Mobster Elmer "Bones" F. Remmer* an offer he couldn't refuse.
If the gambling club owner purchased $52,400 ($699,000 today) worth of shares in the Mountain City Consolidated Copper Co. (MCCCC) then his 1945 federal tax debt in that same amount would be erased and prosecution avoided. Mooney would prepare Remmer's tax return to ensure that be the case.
The Bay Area-based racketeer accepted. Remmer paid $2,400 ($32,000 today) for 6,000 shares at $0.40 apiece.
Like him, hundreds of other California and Nevada and business people, including convicted abortionist Gertrude Jenkins of San Francisco, took a similar deal over the previous handful of years. Here are some of The Silver State gamblers who did so between July 1943 and May 1946 and what they paid:
CASINO/OWNER
SHARES
BOUGHT
COST PER
SHARE
TOTAL
PAID
VALUE
TODAY
Hawthorne:
El Capitan Club
21,000
0.21
$4,410
$64,000
Las Vegas:
Boulder Club, P.J. Goumond
9,740
0.40
$3,896
$56,000
Frontier Club, Guy McAfee
6,250
0.40
$2,500
$36,000
Pioneer Club, Milton P. Page
3,750
0.4
$1,500
$22,000
Pioneer Club, L.B. "Tutor" Scherer
3,750
0.4
$1,500
$22,000
Pioneer Club, Charles Addison
3,750
0.4
$1,500
$22,000
Pioneer Club, William Curland
3,750
0.4
$1,500
$22,000
Reno:
Dog House, Al Hoffman
14,000
0.25
$3,500
$51,000
The Tropics, George Perry
8,000
0.30
$2,400
$35,000
The Tropics, Phil Curti
10,000
0.40
$4,000
$58,000
Tonopah:
Tonopah Club
2,000
0.20
$400
$6,000
Wendover:
State Line Service Hotel, William Smith
12,500
0.40
$5,000
$72,000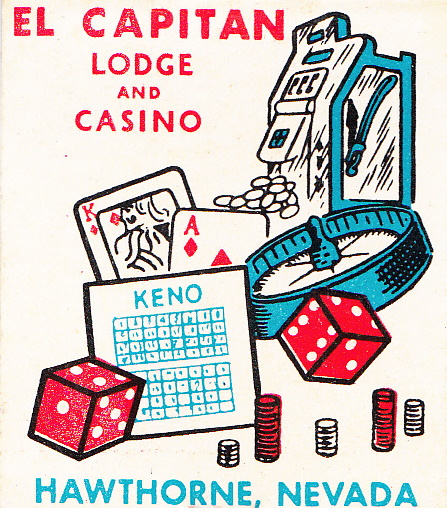 These and all of the other people who bought MCCCC stock had tax problems that disappeared subsequently.
Mining Misrepresentations
Along with Mooney, the key perpetrators of the scam were Ernest M. Schino, chief field deputy for the tax bureau in Northern California, and Martin Hartmann, an ex-con turned MCCCCC sales agent. They told prospective shareholders that the corporation owned a reputable, producing copper mine sitting on valuable property that included 14 mining claims, a mill site and water rights. They touted the fact that the land adjoined that of the producing Rio Tinto copper mine in Nevada's Elko County, owned by Anaconda subsidiary Mountain City Copper Co., a different entity from MCCCC. 
In reality, MCCCC didn't have a working mine. The company had no value, and, thus, the stock was worthless. The property was nothing more than "a rathole in Nevada," Frank Dwyer of the San Francisco Stock Exchange told the San Francisco Examiner (Aug. 29, 1950).
Mooney founded and incorporated MCCCC in 1937, allegedly spent $137,000 on some work there, including a geophysical survey of the land and some underground work in 1944, but that was all. By 1950, MCCCC had about 600 shareholders, a major one being Robert L. Douglass, an IR collector in Nevada.
Compounding the Crime
As promised, Mooney calculated and filled out Remmer's tax returns not just for 1945 but for all of the five years between 1942 and 1947, a violation of IR regulations. Specifically, the bureau's employees were prohibited from doing any work that could affect a person's tax liability and/or from moonlighting in any capacity in which their personal and professional interests would conflict.
Scandal Sees Sunlight
In early 1950, the San Francisco Examiner exposed the IR scheme and the workers involved. Subsequently, William A. Burkett testified before Senator Estes Kefauver's United States Senate Special Committee to Investigate Crime in Interstate Commerce in San Francisco in November 1950, telling them what he knew about it.  He previously quit his position as the IR intelligence chief for Northern California after his department ignored his reports on the MCCCC stock extortion in what he alleged was a coverup.
"The Internal Revenue office hearing [before the Kefauver Committee] showed … that established law enforcement and investigative officers were in many cases the exploiters rather than the exploited in their relationships with the underworld," William Howard Moore wrote in The Kefauver Committee and the Politics of Crime, 1950-1952.
Probe, Legal Action Ensue
After an investigation by East Coast U.S. Treasury agents into related tax cases going back to 1940, the federal government pursued a lawsuit against Mooney, Schino and Hartmann for a single extortion case, the one involving Jenkins, the abortionist, who purchased $5,000 worth of MCCCC shares. By this time, Mooney was 81 and retired, Schino was 55 and fired. Hartmann was 63.
A federal grand jury indicted the trio for attempting to defraud the U.S. government by attempting to obstruct the IR bureau's prosecution of Jenkins for income tax evasion.
Ralph Read, head of the IR bureau's intelligence unit in San Francisco, said that his team, after investigating the Jenkins case years earlier, concluded "there was nothing involving any Internal Revenue personnel" and "there was nothing in the nature of solicitation of a bribe or any act to influence an Internal Revenue officer" (San Francisco Examiner, Aug. 30, 1950).
In early 1952, federal prosecutors tried Mooney, Schino and Hartmann together. A jury found all three guilty.
Schino and Hartmann appealed the ruling, but in December 1953, the Ninth U S. Circuit Court of Appeals upheld it. Schino's sentence was two years in prison, Hartmann's was two years in prison plus a $5,000 ($49,000 today) fine. Mooney got two years' probation and a $5,000 fine.
As for gambler-Mobster Remmer, he later was convicted of federal tax evasion and sentenced to a $20,000 ($194,000 today) fine and five years prison, of which he served 2.5.
———————————————
* Remmer's gambling houses included the Cal-Neva Lodge at Lake Tahoe in Crystal Bay, Nevada; and in California, the Menlo Club, 110 Eddy and B&R Smokeshop in San Francisco; the 21 in El Cerrito; and the Oaks Club in Emeryville.