Listen to this Gambling History blog post here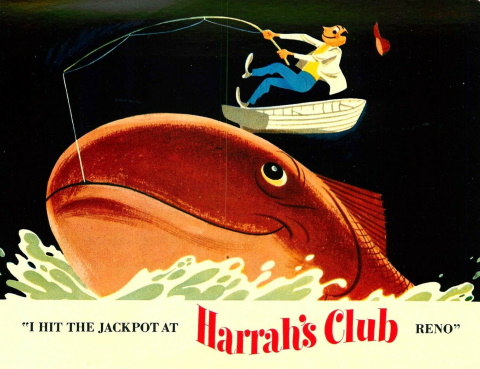 1937-1970s
For Harrah's, which debuted in Reno in 1937 as a bingo parlor, extensive advertising was key to its growth into one of Nevada's largest gambling empires by the 1970s.* However, owner/operator William "Bill" Fisk Harrah's approach to publicizing his clubs primarily was to copy what competitor Harolds Club already had done.
"[Harrah's] promotions were aimed at Harolds," wrote Leon Mandel, author of William Fisk Harrah: The Life and Times of a Gambling Magnate. wrote. "In perfect accord with the Harrah style, they were — at least many of them — stolen from Harolds itself."
A Humble Start
For about the first 10 years, during which the club solely offered bingo, and some employees themselves wrote ads for the business, keeping such work in house.
Then when the gambling tycoon expanded his business to a full casino in the mid-1940s, he engaged local firm, Wallie Warren & Associates, to assume advertising responsibilities. However, Harrah wasn't impressed with the agency's one advertising man, according to Mandel.
A Campaign With Teeth
Sometime in 1958, the gambler switched to Reno's Thomas C. Wilson Advertising Co. One of the agency's ad campaigns for Harrah's was the "I won a jackpot" postcards. Here are some of the first ones circulated. (Warning: Much of the content is politically incorrect and offensive today.)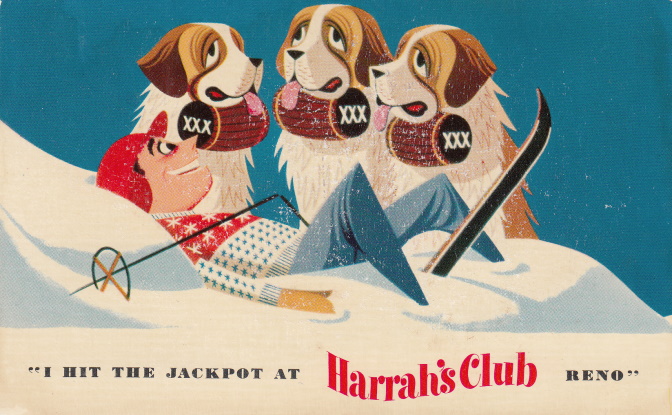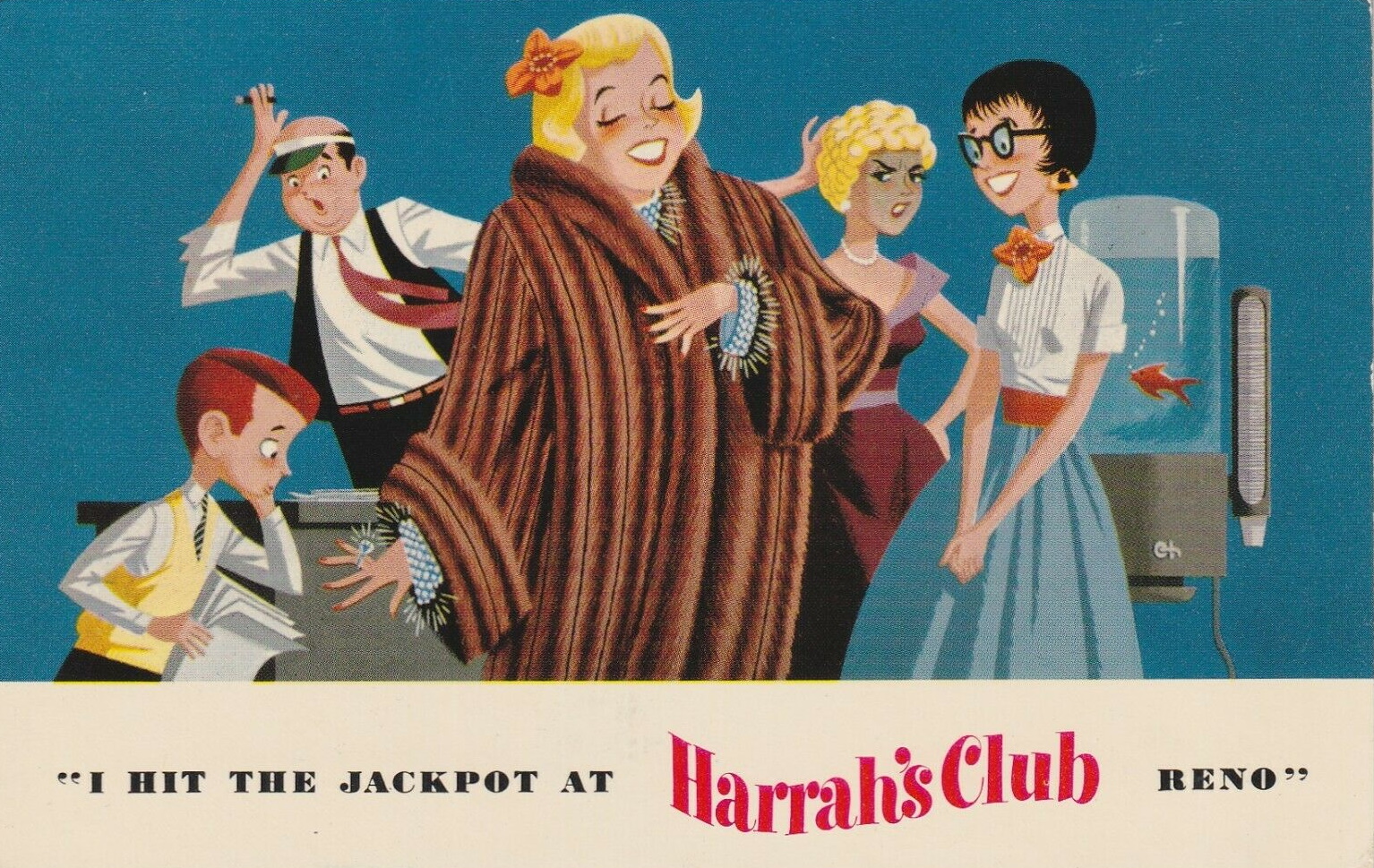 Note the images are oriented horizontally, all of the letters in "Harrah's Club" are the same color, red, and the location cited is "Reno."
Going Out of State
In 1955 Harrah opened a second casino at Lake Tahoe in Stateline, and the postcards changed slightly as a result. Specifically, they now named the locations of both properties.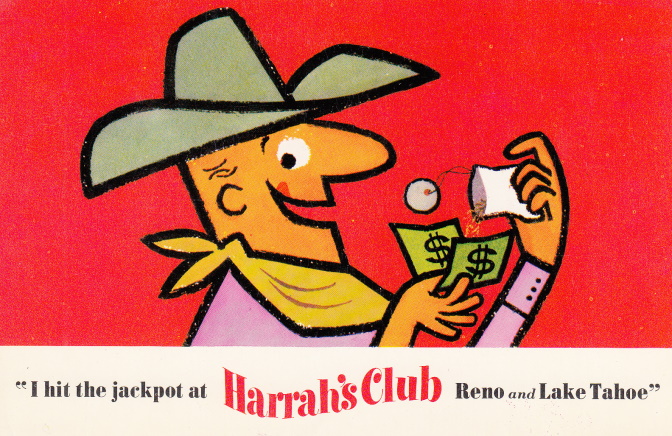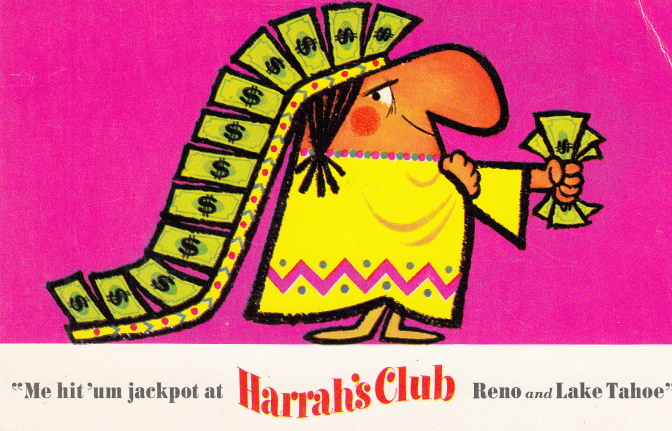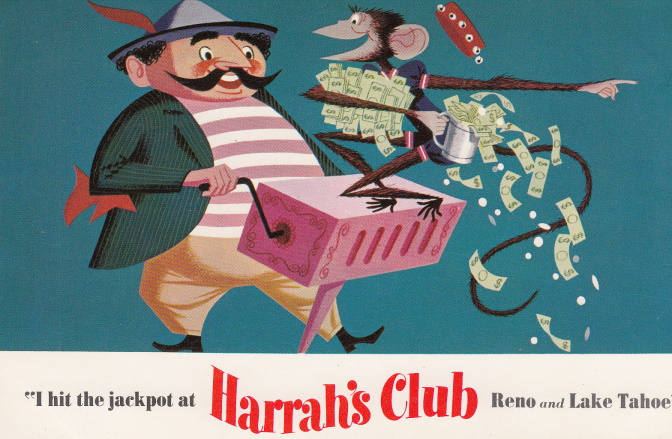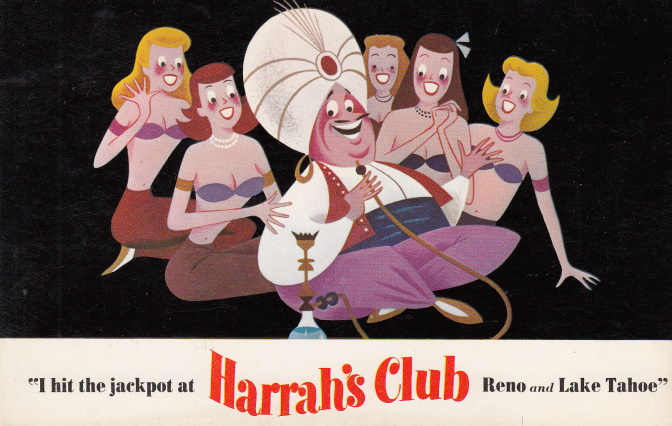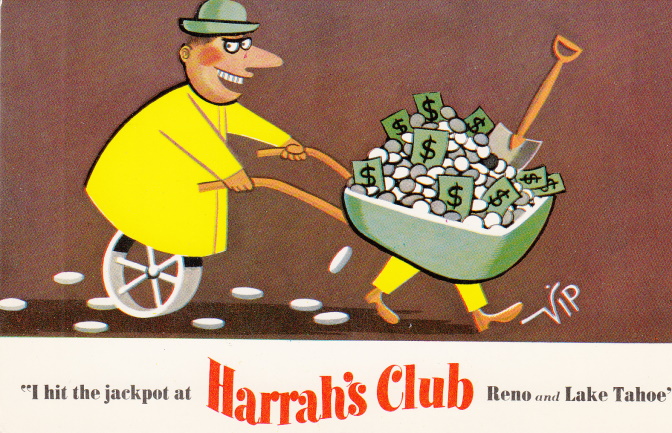 As the two Nevada Harrah's operations grew, so did their advertising demands. In 1961, Harrah's director of advertising, Jack E. McCorkle, sought an agency with the manpower to meet the gambling company's needs.
After four months of searching, McCorkle contracted Hoefer, Dieterich & Brown Inc. in San Francisco, California. This firm's efforts turned Harrah's into a household name. 
The postcards evolved further.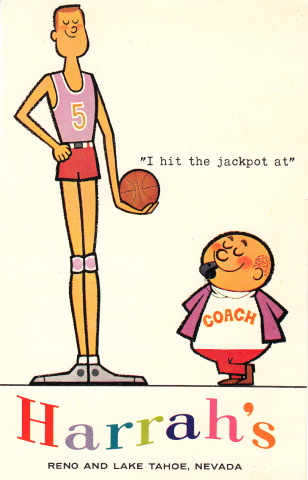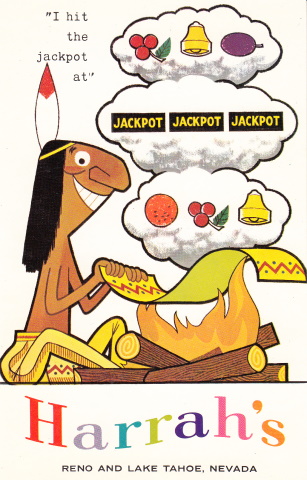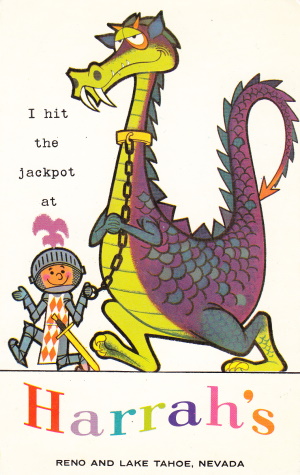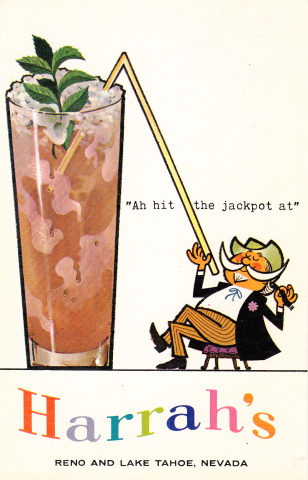 Note the images now are vertically oriented, the casino name no longer includes "Club" and each letter in "Harrah's" is a different color, none of them red.
Big Fat Copycat
It wasn't Harrah's but, rather, its biggest competitor, Harolds Club, that blazed the advertising trail for Nevada casinos. Harrah's simply copied Harolds' successful formula.
In 1941, the Smiths who owned and operated Harolds Club installed 25 roadside billboards** within 500 miles of their Reno gambling house, which indicated fun was to be had there. All of the signs challenged whoever saw them to make their way to The Biggest Little City, but none mentioned gambling.
Before Thomas C. Wilson Advertising created and placed ads for Harrah's, it did the same for Harolds between 1946 and 1958. The agency was responsible for Harolds' covered wagon symbol and its  "Harolds Club or Bust" slogan. It also advertised for Harolds in newspapers and magazines and on radio and TV.
"They did a good job," Harold Smith, Sr., wrote of the Wilson agency in I Want to Quit Winners.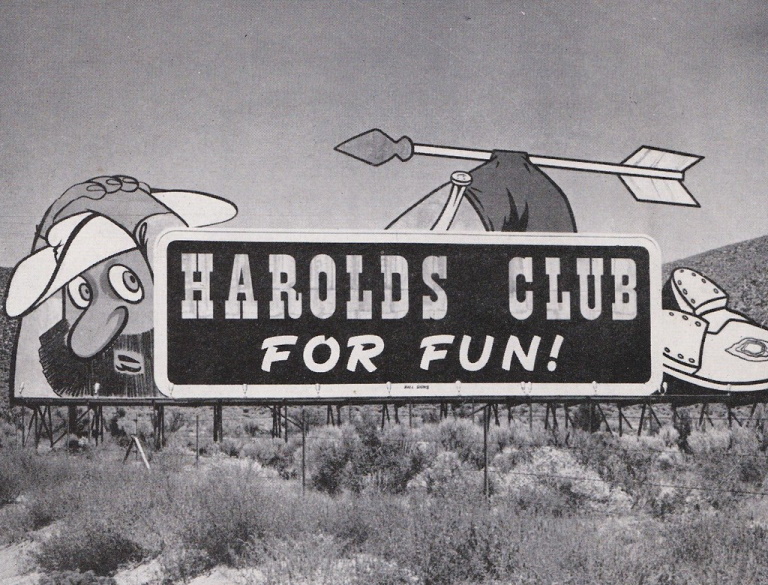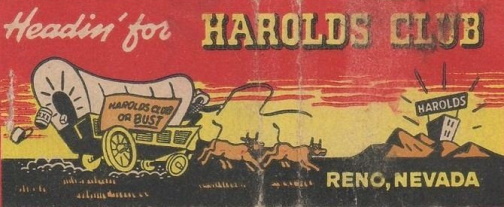 Harrah's also put up billboards along the highways throughout the U.S.' western states and advertised in the same media outlets that Harolds Club did.
Because the casino names, "Harolds" and "Harrah's," were similar, each starting with an "H" and containing seven letters, people often mistook one for the other.
"The more advertising Harolds did, the more people noticed Harrah's," Mandel noted.
—————————-
* Bill Harrah took his company, Harrah's Entertainment Inc., public in 1971.
** The number of Harolds roadside signs rose over time to about 2,000 and appeared throughout much of the world.