Listen to this Gambling History blog post here
Happy New Year!!
1907-1945
Wanting to kick off 2021 with a positive blog post and being inspired by the $15.5 million jackpot win on Christmas Eve at Las Vegas' Suncoast Hotel and Casino, we sought to present you with a list of early jackpot winners in Nevada. Our research, however, turned up more reports of slot machine robberies than legitimate payouts, so instead, here's a roundup of jackpot-related anecdotes from Reno.
Lady Luck is By Their Side
At the Granada Theater in Reno, the Ten-O-Win jackpot paid off three times one May 1938 evening, for a total of several hundred dollars. One of the winners was a University of Nevada student, George Folsom.
"Boy, that'll put me through college next year," he said (Nevada State Journal, May 7, 1938).
*************************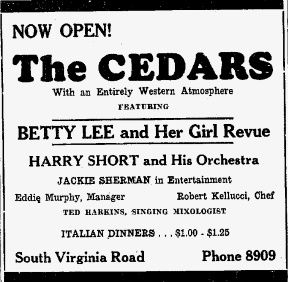 In May 1937, a man named Pinky Barnes won the "Bank Night" jackpot of $250 ($4,500 today) at The Cedars in Reno. The club recently was revamped to be "thoroughly westernized," whatever that meant exactly, and assumed the motto, "Ride a Horse" (Nevada State Journal, May 8, 1937).
*************************
A slot machine at a club on Reno's Center Street had the complete attention of two Klamath Falls, Oregon residents, Vernon Coy, 22, and Thomas Cave, 28, one early morning in October 1940. After intently feeding it half-dollars for some time, they hit the jackpot at about 3 a.m.
Instead of walking away with the payout, though, the two were carted off to jail because the coin that led to the win was counterfeit.
During a search, police officers found more than 90 counterfeit 50-cent pieces on them and many more sewn into the lining of their car. The two admitted to having made the fake coins back home, using plaster of Paris molds and Babbitt metal. They said they'd spent about 35 of them in Sparks and Reno, they said, buying supplies and playing the slots. While doing so, they added, they'd hit yet another jackpot, that one $42 ($780).
A federal grand jury indicted Coy and Cave on charges of counterfeiting, to which both men pleaded guilty. Ultimately, a judge sentenced them to time in a federal prison (then called a reformatory): 16 months for Coy and 18 months for Cave.
*************************
"Too Much of a Temptation"
In 1932, Reno police officers confiscated from a store a slot machine with a stuffed jackpot when they discovered the owner had been allowing young boys to play it.
"A slot machine jackpot brimming over with nickels was too much of a temptation for the Reno police officers at the city hall this morning and many times the wheels went 'round as the guardians of law and order sought to win the prize," reported the Reno Evening Gazette (March 16, 1932).
The officers tried to win the jackpot but ran out of coins. They turned the machine around to face the wall.
As for the shop proprietor, he forfeited his $250 ($4,700 today) bail to avoid jail time.
*************************
Unscrupulous Thievery
A 25-cent slot machine in the Barrel House on Reno's Center Street was known for its big jackpots. On a summer night in 1907, a patron decided it was going to be his … the easy way. He punched and broke the plastic behind which sat the visible jackpot coins, grabbed the money and hotfooted it out of there.
When the elderly gambling-saloon's man in charge realized what happened, he went after the bandit but tripped on a cigar butt, fell and rolled into a spittoon.
"By the time he could extricate himself from his reclining and embarrassing position, the thief had gone," reported the Reno Evening Gazette (Aug. 14, 1907).
*************************
Burglars smashed the window of a door to gain entry into Reno's Wolf Den on Ninth Street on a Tuesday night in July 1945. Once inside, they busted a slot machine's jackpot glass and pilfered the $4 ($58) there. They also swiped the money from the cash register … sans the pennies.
*************************
After a slot machine in Bar of Music in Reno was molested in September 1943, owner Murray Brody placed this unusual ad in the Nevada State Journal's "Personals" section: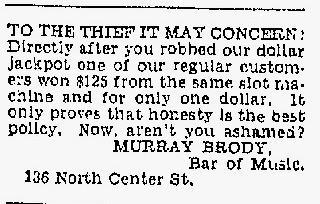 (Today's value of the $125 payout is about $1,900.)