Listen to this Gambling History blog post here
1965-1969: In its July 1966 raid of Kress Manufacturing Co. in Tulsa, Oklahoma, Federal Bureau of Investigation (FBI) agents seized a treasure trove of crooked gambling equipment that seemed headed to various Nevada casinos.
The haul included "hundreds of decks of marked cards and hundreds of pounds of crooked dice" (Nevada State Journal, July 27, 1966). The latter contained stamped logos of various major casinos in Las Vegas, Reno, Lake Tahoe and Elko along with smaller clubs throughout The Silver State. They included the:
Dunes — Las Vegas
Louisiana Club — Las Vegas
New Frontier — Las Vegas
Stardust — Las Vegas
Golden Bank — Reno
Riverside Hotel — Reno
Commercial Hotel — Elko
Crumley Hotel — Elko
El Bo Room — Wells
Cal-Neva Lodge – Crystal Bay (Lake Tahoe)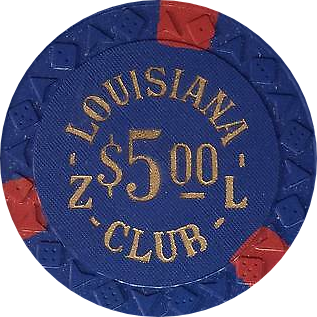 Agents also confiscated various other implements used to cheat at gambling. Among them were metal filings and discs used to weight dice; arm mirror manipulators and glasses used to read marked cards; holdout devices to secret away a desirable card for later use; magnets and magnetic coils used to control dice when rolled; and switches and relays used in rigging equipment like roulette wheels.
The search also turned up Kress invoices that showed the Tulsa gaming equipment manufacturer shipped its products to establishments throughout the U.S. Recipients included the Stardust and Riviera hotel-casinos in Las Vegas and the Citizens Club in Hot Springs, Arkansas.
Casinos Deny Wrongdoing
As soon as the news of the search and seizure went public, proponents of Nevada gambling reacted.
Officials from the Riviera, Stardust, Louisiana Club, Riverside, Dunes and the Commercial Hotel all publicly denied using any kind of cheating device. They never ordered gambling equipment from Kress Manufacturing, they said. In fact, they never heard of it.
"I never knew [Kress] existed until right now. This comes to me out of the clear blue sky," said James Lloyd, president of Riverside Hotel Inc. However, he continued, "This happens lots of times. Some of these companies make crooked equipment to sell to crossroaders who try to cheat the house."
State Agency Weighs In
Edward "Ed" Olsen, chairman of the Nevada Gaming Control Board (NGCB), the state's gambling investigative arm, publicly made four points.
1) This happened before (which was true) and, thus, there is no cause for alarm. 
2) History shows that such cheating paraphernalia is not for Nevada casinos to swindle their customers with but, instead, it's for individual career cheaters, or crossroaders, to use to cheat the gambling houses
3) To err on the side of caution, though, the NGCB will look into whether or not any of the state's casinos ordered rigged equipment, but sending gaming agents to Tulsa isn't necessary.
4) The Golden Bank Club, the El Bo Room and Crumley Hotel, the logos of which were on some of the found dice, no longer offer gambling or are out of business (this was true). The El Bo has been closed for 10 years.
Newspapers Take Side
When the Las Vegas Sun reported the news of the found cache of illegal gambling devices, it used the biased headline, "Foil Plot to Cheat Casinos." It explained what that meant with a slanted lead, or opening line: "A national plot to cheat top casinos throughout Nevada was uncovered yesterday by the FBI in Tulsa, Okla." (July 27, 1966).
Reno's Nevada State Journal published an op-ed piece that refuted any possible merit to the notion some Nevada casinos cheated their customers. It read: "The gamblers and the state gaming officials know that the Tulsa dice were intended for use against the Nevada casinos. So, from a standpoint of the casinos being innocent of buying cheating gambling devices, there is no question. They just simply don't do it" (July 18, 1966).
"Anyone who knows anything about gambling, however, knows immediately that the implication that the bigger Nevada gambling houses may be buying crooked dice or cards to cheat their patrons is just plain ridiculous," the writer went on. "That the casinos, and particularly the big casinos, would risk, their licenses, representing millions of dollars in investment, by using crooked playing equipment is beyond comprehension."
Also, the writer called out the FBI for intentionally misleading the public to think, by not saying otherwise in its report of the Kress raid, that the crooked equipment was intended for casinos not crossroaders.
An Opposing View
Op-ed writer Paul Harvey for The Ada Evening News in Oklahoma purported that Nevada's gambling industry wasn't as squeaky clean as it wanted the country to believe. In a published piece titled "No Gamble," he wrote:
"Las Vegas is not going to incriminate itself. We are going to learn nothing new from this recent self-investigation. A hearing where the bosses are not subpoenaed and the witnesses are not under oath and the sessions are secret could hardly be anything but a whitewash. Accusers say the games are rigged and the cream is skimmed by the underworld before the casinos compute their taxable income, but you can hardly expect the State Gaming Commission to indict itself.
"We'd all heard the naive say, "Mathematical odds on cards, craps and roulette favor the house: they don't have to cheat!' Now the FBI has shown us that they do anyway. But the swindle goes on and the suckers stand in line and the casinos continue their business as usual" (Sept. 13, 1966).
Next week in Part II, read about the gambling investigation that led to the Kress raid, the indictment of 15 people including a Las Vegas-based dice maker and the legal outcomes for the key players.
———————-
Louisiana Club chip photo: from the Museum of Gaming History's Chip Guide