Listen to this Gambling History blog post here
1950-1956
A novel, animated gambling device began to appear in Nevada casinos in 1950. It debuted in the lobby of Reno's Mapes hotel-casino in the fall and "got a big play from visiting Shriners," reported the Nevada State Journal (Nov. 12, 1950).
They were one-armed bandits, or life-sized outlaws whose torso was a slot machine and whose arm and gun-toting hand constituted the lever.
Donning a white plastic cowboy hat, a red bandanna over their lower face, jeans and boots, the men's eyes lit up in red when a player got a payout. In some models, they shouted "jackpot" when the bars aligned horizontally. The Mapes' version garnered the name "Reno Joe." 
The showcasing of Reno Joe resulted in numerous calls from Silver State casinos to the manufacturer for large orders of the Bandit. However, because Character Manufacturing Co. (CMC), on South Virginia Street in Reno, hand carved and custom made each one with individual characteristics, it only produced them in limited numbers. The brand of slot machines it used in them also differed occasionally but typically was a Mills or a Pace.
A Popular Novelty
In 1951, the Nevada Club in Reno installed in its bar area four Bandits, ones wearing hatbands bearing the casino name. They held Jennings Standard Chief slot machines, at the request of Lincoln Fitzgerald, the club's co-owner and gaming manager.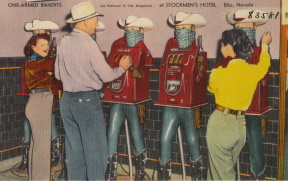 The same year, LIFE magazine published in its May 18 issue a photo of the five Bandits in Stockmen's Hotel and casino in Elko, in Northeastern Nevada. Those boasted gray and white polka-dot bandannas and red slot machines.
To entice people to play the slots, the Las Vegas Club in Southern Nevada, in 1952, commissioned 15 Bandits for its casino. They were beefier and better resembled men than Reno Joe, and had two arms and patterned shirtsleeves. Some lacked the bandanna.
These slots became the club's icon, getting face time on advertising matchbooks and decal-postcards. The message on the latter was to see for oneself "the 15 generous gentlemen of the Old West at the Las Vegas Club."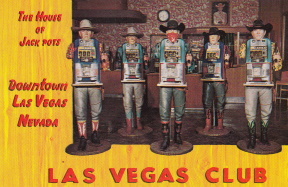 Other casinos, too, including Vegas' Mint, purchased and incorporated the Bandit into its gambling offerings.
Artists and Products
Character Manufacturing Co. (CMC) began in 1948. During that time, various individuals carved its products.  One of the first was Sundance Cravat, a well-known Reno cowboy skilled in various handcrafts, including wood carving.
CMC hired cowboy artist Frank Polk when he claimed he could do a better job than had been done. During 1951 and 1952, Polk crafted more than 90 pieces for the company.
Other slot machine figures CMC made were the Gold Miner and the Cocktail Waitress, which was plastic. The latter was noteworthy for various wigs and apparel each of them wore. Reno's Golden casino added 21 Cocktail Waitresses in 1956. They nearly met their demise during the fire ten years later that razed the building but were saved.
(CMC's slot-less products included oversized, hand-carved Native Americans and talking horses.)