Listen to this Gambling History blog post here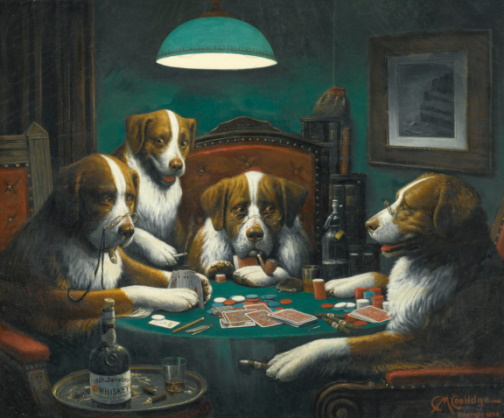 1894-Today
In his paintings depicting dogs as humans, Cassius "Kash" Marcellus Coolidge (1844-1934) brilliantly captured the nuances of poker playing and gambling. The dogs' expressions are spot on and the details, comedic. Perhaps Coolidge himself had some experience in that world.
Along with Poker Game (above), here are the paintings, all oils on canvas, created between 1894 and 1910:
In A Bold Bluff, originally titled Judge St. Bernard Stands Pat on Nothing, it appears as if Judge St. Bernard has bluffed his way through the game with a weak hand and, with only one opponent left, all eyes are on Judge, eager to see his next move or his hand.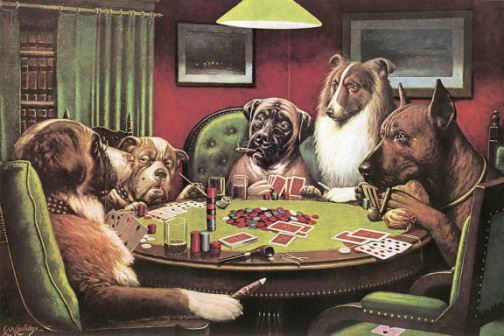 Waterloo continues the story, with Judge St. Bernard having won the game and the big pot, his fellow players shocked at his hand and how he'd bluffed them.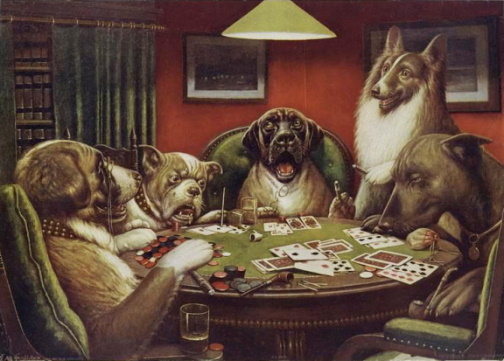 Looks Like Four of a Kind, also called A Friend in Need, shows a group of buddies playing poker at 1:10 a.m. Mr. Bulldog is about to cheat by slyly giving a card to his compatriot on his left. Mr. Dog on Mr. Bulldog's right witnesses the pass. (Note how Mr. Collie has his legs crossed!)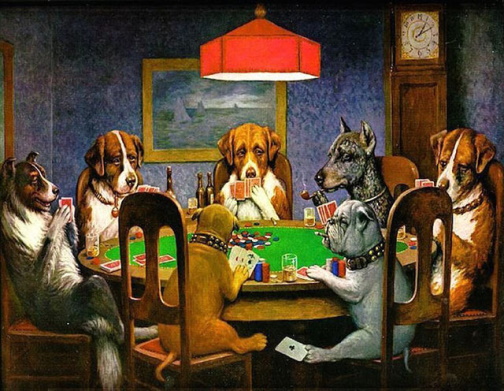 In His Station and Four Aces, three dogs are playing poker while traveling on a train, and a few others, the attendant included, are watching. Mr. Dog seated on the left has a rare hand (four aces) but before he can play it, the train arrives at his stop, and he's grumbling about it.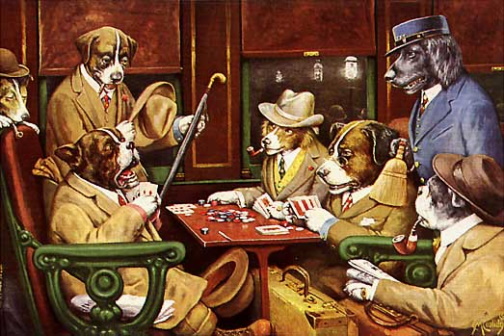 Pinched with Four Aces depicts a police raid on an in-progress, illegal poker game. Mr. Collie No. 1 starts to flee, knocking over his liquor glass and sending his chips flying in the process. Mr. Collie No. 2 looks angrily at the cops for the intrusion whereas the other players just seem surprised by it. Mr. Bulldog has four aces, but his hand will go to waste.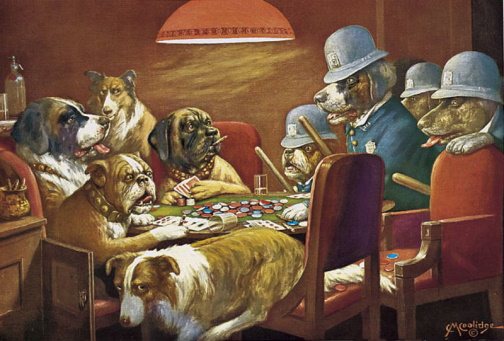 In Poker Sympathy, Mr. Bulldog hasn't won anything all night and looks to be saying, "I freakin' give up!" The other players express their sympathy except for Mr. Pitbull, who seems to be laughing at the repeat loser's misfortune.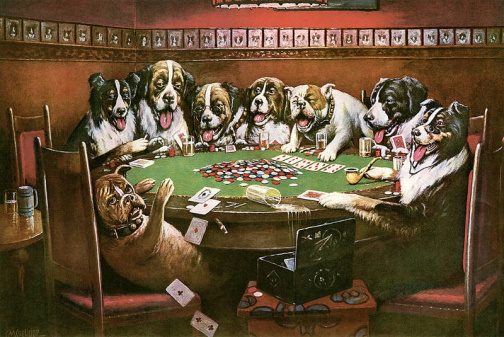 In Post Mortem, at about 1:23 a.m., three players are enjoying a snack while kibbitzing and discussing and analyzing the games just played that night.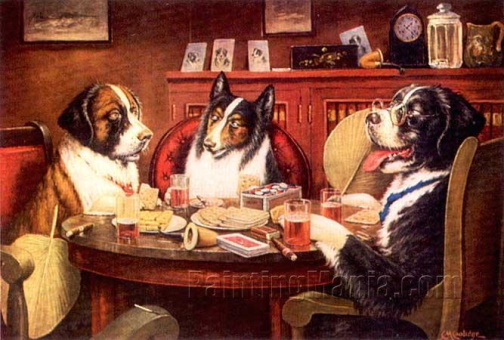 Sitting Up With a Friend shows a group of guys keeping their ailing pal company. Some are trying to entertain him, at least one other is playing cards with him, and a third and fourth are passing the time reading.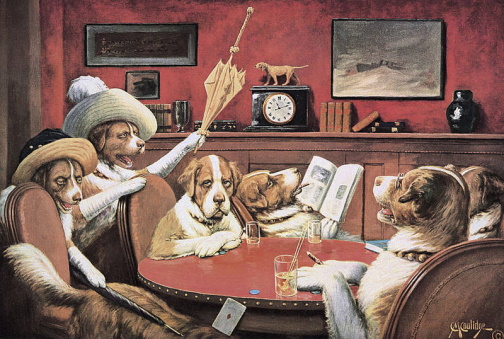 Stranger in Camp depicts a mining camp, in which two card-playing men are unhappy with an unknown dude who wandered over to join them. One seems to be sizing him up, the other looks to be yelling at him. Meanwhile, the newcomer looks a tad frightened.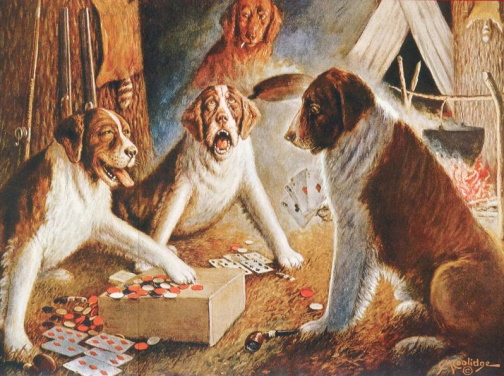 Unwarranted Dissing of the Artist
The art community of Coolidge's time didn't give the New York-born any respect, as if they believed he and his works were inferior, products for the lower classes. Ironically, it's those very elitists whom Coolidge seems to mock in his paintings of anthropomorphized dogs, wearing suits, ties and pricey accessories, smoking pipes and cigars, drinking expensive liquor and gambling away heaps of money.
Given that Coolidge's images are still being reproduced and hold iconic status today, more than 100 years after their creation, and given two of the original paintings sold at auction in 2005 for $590,400 (about $829,000 today), Coolidge, god rest his soul, (deservedly) is having the last laugh. Not bad for someone without any formal training in the arts.
Which one is your favorite image?