Listen to this Gambling History blog post here
1937-1939
In 1937, an Alton, Illinois woman took on the local gambling-Mobsters and the political machine … with an axe.
Motivating Factors
In Irene Kite's county of Madison, gambling was illegal, yet law enforcement and local government allowed certain establishments offering games of chance to operate openly. Her husband Carl's card club had been one of them until the powers that be, at the behest of the area's crime syndicate, refused him permission to operate in April 1937 after 15 years in business. This left the Kites without an income.
The majority of approved gaming enterprises were ones run by Mobsters, and they sought to get all independently owned places closed down.
The syndicate heads in Madison County were: Harry Murdock, Harry Price, Paul Delaney and Cliff Phayer.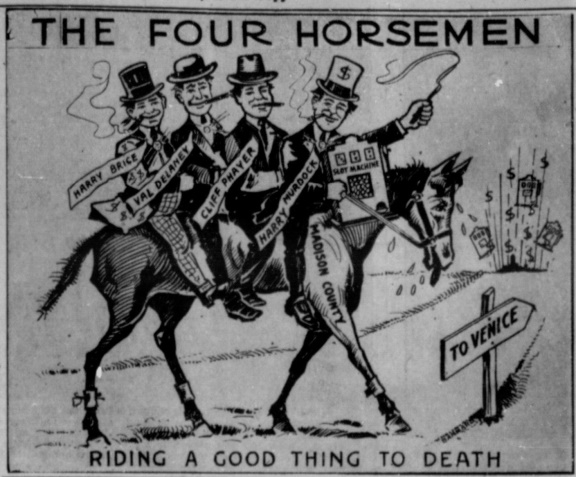 "With the exception of a few cities in Madison County, the syndicate had its grip everywhere — Granite City and Wood River being the chief places where the syndicate was barred. Alton, Edwardsville, East Alton, Venice, Madison, Collinsville and some of the smaller places were dominated in their politics, as well as their slot machine business, by one or the other of the divisions of gamblers who were plundering the people of the county," reported the Alton Evening Telegraph (Nov. 2, 1938).
The article highlighted that the Mobsters' slots were rigged to rarely pay out and when they did, amounts were small.
Her Killing Spree
On a Saturday afternoon in late December of the same year, Kite contacted a local newspaperman and informed him what she planned to do that night and why.
Later, she went from gambling club to gambling club in Alton, once inside apologized for the disruption and slayed as many syndicate-owned slot machines as she could. Familiar with the devices' inner workings, she disabled each one with two targeted blows.
Kite maimed 14 slots in 7 bars before police arrested her.
She did it "because that's the only way I can get at those who allow one man to operate a gambling resort and won't let the next man," and she'd intended to embarrass the slot owners, she'd told the reporter (Alton Evening Telegraph, Dec. 20, 1937).
Kite emphasized she'd axe the slots again and again if she thought she had to.
"I've got a lot of axes — about a dozen of them — and I'm not going to quit until every slot is out of the city," she said (Nevada State Journal, Feb. 15, 1938).Kite also had informed the newspaperman that in Alton numerous syndicate-operated gambling places already should've been closed but hadn't been because no officer would serve the warrants. She'd estimated that about 14 of these warrants, all legitimate and signed by a judge, were on file; the reporter looked into the matter and confirmed the total to be 17.
Success and Fame
After spending a few hours in jail that Saturday night, Kite was released. No charges were brought against her for her destructive rampage.
What it did get her was results. Alton's Chief of Police Paul Smith ordered that all gambling in the city be stopped. And it was … at least for the time being.
"It is true that the slot machines are now in storage," the Alton Evening Telegraph reported (Nov. 2, 1938), but the gambling syndicate hope, only until after election (on Nov. 8) when the prediction is made, if everything goes right, they will be out and in full operation again."
Kite also garnered widespread fame. People and groups — the Alton Ministerial Association and the League of Women Voters, for example — admired and supported her. Eventually, the notoriety led to her and her story being featured, in March 1939, in Actual Detective Stories of Women in Crime, a hard-boiled pulp publication.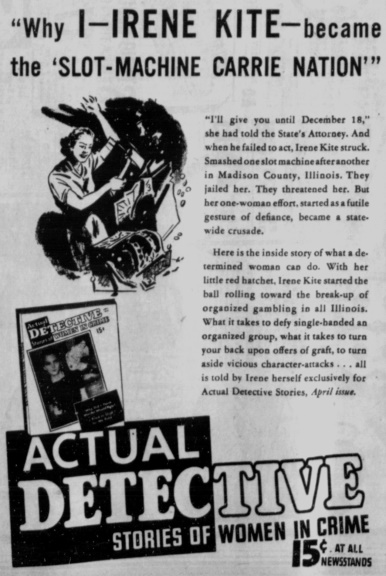 ————————————–