Listen to this Gambling History blog post here
1980
Thirty-five years ago, on August 27, an intricate bomb blasted a chasm that spanned six of the 11 floors of Harvey's Resort Hotel. The explosion hadn't been intentional but, rather, the result of the best idea experts could conceive of to disarm the instrument.
"To this day it remains the most bewildering improvised explosive device the FBI has ever encountered," wrote Jim Sloan in Render Safe: The Untold Story of the Harvey's Bombing.
The concept was to sever the detonators in the top metal box from the roughly 900 pounds of dynamite in the second case underneath by using a charge of C4 set off remotely, rendering the weapon ineffective. Fortunately, the premises and those nearby in Stateline, Nevada had been evacuated beforehand, and no fatalities occurred.
During the 34 hours the bomb had sat on the hotel's second floor and numerous x-rays, tests and discussions about it had taken place, the FBI had sought to deliver the $3 million ransom (really only $1,000 and bundles of newspaper) and capture the extortionist at the drop. The attempt had been a bust, though, as the helicopter pilot, instructed to fly to a remote part of the Lake Tahoe wilderness and land where he saw a strobe light, couldn't spot it. A second try had been planned, but the explosion had pre-empted it.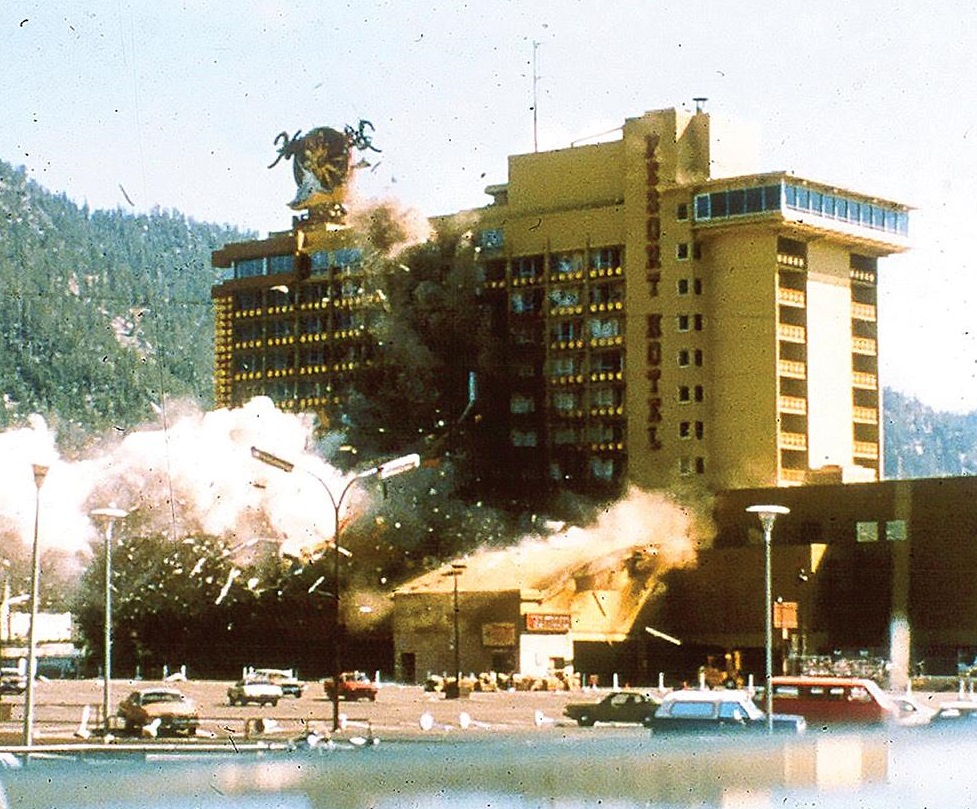 Harvey's reopened nine months later, after owner Harvey Gross made $18 million worth of repairs and security enhancements to it.
Despite a $200,000 then $500,000 reward for information about the crime, it took about a year for the FBI to identify and arrest the perpetrators.
The mastermind was a 58-year-old retired business owner, János "Big John" Birges, who'd demanded his two sons, John, 19, and James, 18, help him carry out his scheme.
"The Birges boys were still bound together by at least one thing: a terror of their father," wrote Adam Higginbotham in his Atavist Magazine article
Money Was Motive
John Sr. had needed money, as he'd gambled away his savings, owed $15,000 ($43,000 today) to Harvey's (his favorite casino that he'd frequented often) and lacked any more assets to sell. Previously, to cover casino debts, allegedly he'd burned down his restaurant for the insurance money and had sold his home. Twice divorced, he'd been unhappy, ill with severe abdominal bleeding and snubbed recently at Harvey's, when he and a female companion were asked to leave a VIP suite to free it up for a person of higher standing.
The elder Birges was sentenced to life in federal prison. In 1996, after serving 11 years, he died from liver cancer. His sons received immunity for their cooperation and for testifying against their father at trial.
Photos from FBI files