Listen to this Gambling History blog post here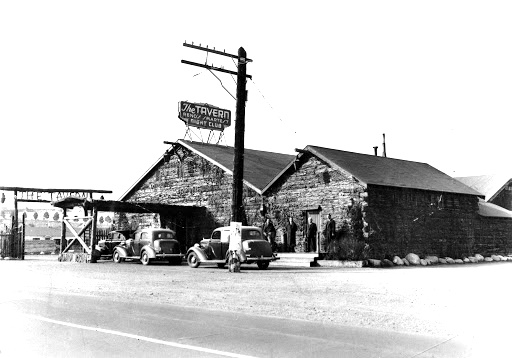 1941
In the wee Sunday morning hours of May 4, employees closed The Tavern after a busy Saturday night of patrons gambling, dining and dancing to live music. The place was bereft of people except for the night watchman.
Suddenly, around 5:15 a.m., he noticed flames inside. He ran to the cabin behind the club and retrieved the orchestra's saxophone player who was just about to go to bed. The two men battled the blaze with fire extinguishers, unsuccessfully, as it already had become unmanageable. They grabbed three saxophones and hurried outside.
The Devastating Fury
All of the city's firemen arrived at the property, at the intersection of hen U.S. Highway 40, also called the Verdi Highway, and Second Street, seven minutes later. In the meantime, a strong wind had whipped the flames into a conflagration.
With the structure too far gone to be saved when they got to the scene, the firefighters focused on preventing the blaze from spreading to and igniting neighboring structures. They blasted the fire with water for 6.5 hours. Lookie-loos gathered and watched the demise.
"The dry, frame building, finished on the outside with pine slabs on which the original bark remained, burned rapidly," reported the Reno Evening Gazette (May 5, 1941). "One of Reno's oldest and best known nightclubs" as described by the Nevada State Journal (May 5, 1941), was no more.
The fire destroyed the building and nearly everything inside. The unsalvageable assets included gambling tables and paraphernalia for craps, 21, roulette and slot machines; the bar and kitchen equipment; the $3,000 (about $54,000 today) liquor inventory in the basement; and numerous musical instruments, including three pianos, drums, a trumpet, guitar and clarinet.
Only the safe and its contents — sacks of silver and currency and documents — survived.
Victor Partipilo, The Tavern manager and co-owner with his wife Mary Dormio Partipilo, told the press the business' current loss amounted to at least $30,000 ($541,000), but more than $100,000 ($2 million) had been spent on the club over the previous nine years.
Victor told the press he intended to rebuild and reopen the nightclub on the same site but didn't. Instead, he and a partner, Brownie Paretti, debuted and ran the El Tavern Auto Court and Coffee shop there.
A Curious Trend
The Tavern wasn't the only popular Northern Nevada gambling night spot that had burned down during the first decade of open gambling in the state.
Fire also annihilated the Willows, also on the Verdi Highway, in June 1932 when it was being renovated for a reopening, the Country Club in 1936 and the Cal-Neva Lodge, when closed during the off season, in 1937. Only the Cal-Neva was resurrected.
———————————-
Photo: from the Nevada Historical Society